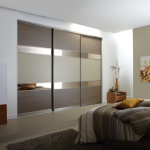 Newbold bedrooms specialise in fitted sliding doors, including glass or mirror panels as required. All of our glass and mirror sliding doors are fitted by us to the highest standards.
For safety all our sliding doors use the patented Anti Jump mechanism.
Our usual guarantees apply to all fitted glass and mirror sliding doors.
Please take your time to browse around our website and examine the quality products we offer or call us on 07836 689152.
Check out our Sliding Door Gallery Page for an extensive range of sliding door ideas…