Fitted Bedrooms, Sliding Glass/Mirror Doors, Fitted Offices and Studies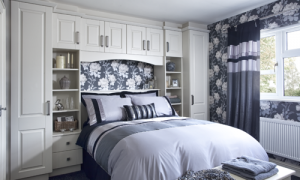 Established in 1990, our fitted bedrooms company has grown from strength to strength. We now occupy a Chesterfield town centre showroom almost opposite the famous Chesterfield crooked spire of St. Mary's church. Please take your time to browse around our website and examine the quality fitted furniture products, along with our skilled craftsmanship, that have helped to earn us our reputation for high quality and service at the right price. Please feel free to phone us for a free no obligation quote on 07836 689152 or visit us at our showroom to see our huge range of fitted bedrooms, sliding mirror, glass and wood doors and offices & studies. 
Our fitted furniture showroom: WINTER OPENING (JAN-APR) – BY APPOINTMENT ONLY
We can also design, supply and fit en-suite bathrooms and fitted kitchens, generally to existing customers. Please give us a ring to arrange a quote on 07836 689152.