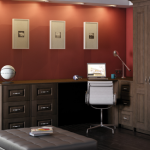 Fitted offices and studies designed, built and fitted by Newbold bedrooms.
Custom built to fit beautifully into your home either as part of a bedroom or as an individual room on its own.
As with our fitted bedrooms and sliding doors, all of our work is guaranteed to provide you with excellent quality for years to come. Why not see what we can do for you and book a free no obligation quote on 07836 689152.